Leadership and Management Products and Resources
How to Improve Employee Performance Through Coaching

"Imagine what it would be like if everyone on your team contributed to their full potential..."

You will discover how to:

Build motivation, increase skills and get maximum performance from all members of your team

Approach coaching - even of problem individuals - with confidence that you will see the outcomes you expect

Ensure maximum impact from every coaching session by following these three essential steps - including one that even experienced leaders can be tempted to skip with undesirable consequences

This is a 'Just the Gist' Short Report specially written for busy leaders and managers. No fluff. No filler. Just the key things you need to know and do to succeed...

Free Bonus Worksheet: Ten Step 'Never-fail' Coaching Preparation Checklist

Free Updates for Life: Buy now and register to receive any future updated versions at no extra cost.




Price $17
See more details here
Getting Your ( Obvious ) Message Across

A Short 'Just the Gist' Report for Leaders and Managers on how to get your message across - especially those messages that seem so obvious, it's hard to understand why people don't just 'get them' straight away.

'Getting Your ( Obvious ) Message Across' includes:

Eleven different ways you can get across obvious messages that change behavior, without nagging...

The four principles you need to follow to make your messages - and any new behaviors - stick in your team culture

How to make it all work and ensure everyone on your team 'gets it'!

Free Bonus Worksheet: How to Tell a Simple Story With Impact.

Free Updates for Life: Buy now and register to receive any future updated versions at no extra cost.

Special Price $17
See more details here
Coaching for Cash

" Have you ever thought you could be a coach or mentor to others? "

Or maybe you have even been asked to coach or mentor someone already. Liz Tomey's Coaching for Cash explores all the advantage and pitfalls of coaching and mentoring in a wide range of different situations - for you as well as your protege.

Where to look for people to coach or mentor - and how to choose the right ones...

The right way to work with your protege - and traps to avoid

The essentials of communicating effectively when you coach someone

How to move on gracefully when your work is done

How to build a stream of referrals so you have a constant flow of proteges to select from

... and much more.

Surprise Bonus: included at no extra cost:

Master Resell Rights (typically worth up to $47 or more) included at no extra cost!

Price $27

Managing Stress -
How to Break Free from a Stressful Life

Stress is a central part of the life of every manager and leader and how well you manage stress has a huge impact on your own life, your family's happiness and the success of your team.

When you can manage stress effectively, not only will you enjoy your life and your role more, you will be able to 'take charge' and lead people through situations that others find distressing or even confronting.

In this 50-plus page ebook you will learn:

What is stress and how it can manifest itself in your life

How to identify all the stressors in your life

The right - and wrong - ways to react to stress and control it's impact

How to break free from a stressful life.

Price $17

101 Tips for Avoiding Procrastination

In this 60 page guide, "101 Tips for Avoiding Procrastination" you will learn all the tricks, methods, and strategies for beating your procrastination habit.

This great resource for leaders and managers comes with FREE bonuses, including:

Time Management and

The 3 Most Powerful Ways to Get Yourself to Achieve ANYTHING Despite Pressure, Deadlines and Procrastination

Price $17
See more details here
Step by Step Business Plan Guide

If you've been spinning your wheels trying to succeed in getting funding for your business and even just getting your business plan on paper, this ebook is going to change the way you have been doing things.

Includes two volumes:

Volume 1 describes the essential elements of a business plan with samples and worksheets.

Volume 2 describes a number of innovative approaches to securing the funds you require.

Price $17
See more details here
About Your Memory
- A Special Report for Leaders and Managers

"A quick introduction to the way your memory works: In simple language it covers the essential details you need to know, to use your memory more effectively than before."

Discover:

what memory is and how it works

three keys to remembering better

two powerful techniques you can easily use to move information from short term into long term memory

some of the most powerful memory retrieval cues you can adopt,

and more...

Price $7
See more details here
Improve Your Memory and Improve Your Life

"Improve Your Memory and Improve Your Life isn't a system, or a course, or a book of puzzles to test your powers. It is a book of simple instructions on the practical application of memory principles."

A poor memory can be a major disadvantage to any leader or manager in getting things done. A poor memory can limit your promotion potential, cause you increased stress and anxiety, and generally make life more difficult than it needs to be.

Price $14.97
See more details here
Powerful Ways to Sharpen Your Memory
- A Guide for Leaders and Managers

"Leaders and managers need a good memory. It doesn't matter whether you're 62 years old or just 22, anyone is capable of memorizing and recalling virtually any information possible. However, you must have the right knowledge, proper lifestyle, attitude, habits, and tools to possess a super memory."

Just some of the many things included:

7 powerful tactics to overcome forgetfulness and absentmindedness

How to utilize your senses to boost your memory.

11 extraordinary strategies to help you remember names and faces, and much more...

Special Bonus 1 - The Power of Concentration ebook

Exclusive Bonus 2 - Quickstart Worksheet Pack

Exclusive Bonus 3 - Sharper Memory eCourse

Price $19.95
See more details here
Take the Lot - Memory Power Pack

"Includes Powerful Ways to Sharpen Your Memory- A Guide for Leaders and Managers, plus Improve Your Memory and Improve Your Life, and About Your Memory, plus bonuses."

Learn effective techniques for:

how to maintain your brain in tip-top condition

how to overcome forgetfulness, and

how to easily retain data in your mind for immediate retrieval anytime you desire.

Price $29.95

Ultimate Blueprint for Leadership Success MegaPack

"This MegaPack includes more than 6 hours of mp3 audio seminars, recorded live with some of the best experts in their fields, plus more than 250 pages of pdf transcripts, study guides, other bonuses and information, plus your 7 week supporting ecourse to help you put what you learn into action so you gain maximum value from this unique set." - a total of more than $US 460 in value...

Six powerful leadership programs, each with mp3 audio files and pdf transcription documents

A bonus 7 week ecourse to support you as you work your way through the Ultimate Blueprint Leadership Mega Pack.

Instantly downloadable mp3 audio files and pdf transcripts

Price $327
See more details here
"Your No-Nonsense Iron-clad Money-back Guarantee"
You can buy in complete confidence.

You are fully protected by our 30-day iron-clad money-back guarantee.
Your purchase comes with a minimum, unconditional 30 day guarantee. If you have any problems or you are dissatisfied for any reason, simply contact me at our Help Desk and request a refund. We will cheerfully replace your order or refund your money - which ever you prefer.
You Just Can't Lose With Our Simple Risk Free Guarantee.
The risk is all mine. Could anything be fairer than that?

You can order with confidence
*Please note: All prices are in $US and GST will be added for Australian orders.
Click Here to Read Customer Testimonials
More Products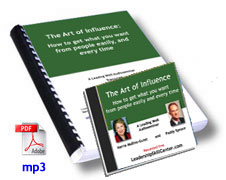 Click here for more leadership and management products